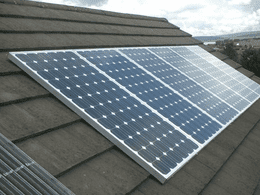 If you want to reduce your energy bills, solar panel systems are an incredibly convenient and affordable way to harness the radiant heat energy from the sun. Yes, even in Seattle, it is possible to generate enough solar energy to power your home!  Solar panels can be easily installed on the rooftop of your home or commercial buildings. So, if you are looking for affordable and professionally installed solar panel electric power generation systems in Seattle, you have come to the right place. NW Mechanical specializes in installation, consultation, and maintenance of Seattle solar panel installation and solutions.
Our professionally trained technicians will help you plan the right solar solution for your home or office based on your needs. Solar panel installations are simple and don't involve going through any structural changes to your home. They make very little or no mess at all. Nor do they clutter your home. Instead, well installed solar panels integrate into your roof elegantly and look very attractive. Solar panels are mounted on the top of your roof, where it's least obtrusive and most effective at capturing radiant energy from the sun. 
Depending on the surface area of your roof, our trained technicians will calculate the maximum number of solar panels that can be installed. The more the number of solar panels, the more solar energy you will be able to generate, drastically reducing your energy bills.
Solar panel electric power generation systems are a rising need of the hour for today's households and businesses. Choosing the right one and getting them correctly configured can effectively save a lot of money and minimize long term maintenance costs.
If you are looking at cutting down on your energy bills and need a green energy solution to power your home or simply want to have the added flexibility of using the energy from the grid as well as from the solar panels based on the seasonal changes, then you need a solar panel system. Energy harnessed from solar panels provides a renewable, green, cost-effective and efficient alternative to using energy from the grid. Now you can choose when to save on your energy bills. 
Moreover, you can also send additional energy back to the grid to generate additional income using the right solar system installation. We at NW Mechanical will help you plan a solar energy solution for your home with flexible capacity options. You can then choose how many panels you require and which other equipment options you require.
We use top quality and highly efficient solar panels from well-known and reliable companies. The efficiency of solar panels plays a major role in the operation of your solar energy generation setup. Our well-trained technicians will come evaluate your home and give you a wide choice of customized installation plans based on your budget.
A professionally installed solar energy generation system can not only significantly reduce your energy bills but also save you from frequent maintenance and repair hassles. NW Mechanical offers highly professional consultation, solar panel installation, and hassle-free maintenance plans.