Solar System Repair & Maintenance in Seattle
also serving shoreline & the surrounding areas
As a customer of Northwest Mechanical, Inc., you have access to our 24/7 emergency service center. Any time, any day, you can call us, and we will troubleshoot your problem and resolve it quickly. We have licensed plumbers and solar experts on staff.
You can count on us to handle the following and more: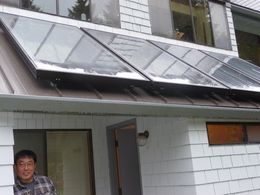 Older system – If you have an older solar system, call on us to inspect, update, modify, repair, or replace your system.
Re-roofing – Typically, replacing an old roof requires the removal of existing solar power systems. Northwest Mechanical, Inc. coordinates with the roofer, safely removes your solar panels or collectors, shuts-down the system during the roofing project, and then professionally re-installs everything after the roofer finishes their part of the job.
A system that was there when you arrived – Do you have a solar system that "came with the house"? Call us to evaluate the system to determine whether it is worth fixing or replacing.
Contact Us for Expert Troubleshooting
Solar energy systems that are 20-30 years old may still be fully operational yet give poor results. Why? For example, trees that were small or not yet planted when the system was installed may have grown to a size that now blocks solar access. Other causes may also be hindering the performance of your solar system. Sometimes, these issues are a simple fix and you can be on your way to greater results in no time.
Whatever the problem, our Solar Engineering Maintenance team can get to the root of it and make sure your solar systems perform in top condition again. Do you have a question about solar energy, solar services, or are you looking for the top-quality solar panels in Seattle? Look to Northwest Mechanical, Inc. for all your solar needs!
Get started today by scheduling an appointment at (206) 900-9231 or online.
Our values and benefits
See how we are different
Request an Estimate Today

Emergency Same-Day Service & Available 24/7

Tailored Solutions for Home Efficiency & Comfort

We're Not Happy Until You Are

The highest trained & skilled technicians in Seattle
efficient and worry-free equipment
with our service partner plan
from priority service to annual maintenance plans and so much more. Click below or call us to learn more.
(206) 900-9231