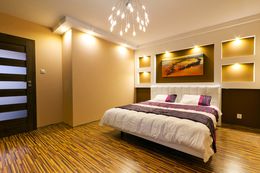 Nothing beats a warm floor on a cold day.
If you are considering installing a radiant floor heating system in your Seattle home, read our top 5 reasons to do so here.
Warm feet. On a cold, rainy day, nothing feels better than waking up to put your feet on a warm, heated floor.  You can't beat radiant floor heating, Seattle!
Energy efficient.  Rather than rely on inefficient forced-air systems, which start with cold outside air, and then must expend energy to heat it before moving it inside, radiant heating uses a warm surface to transfer heat into a space. Warm air rises, so a heated floor soon means a heated room.
Cost savings.  Energy efficient means saving you money.  Radiant flooring is reported to save 20 percent to 40 percent in heating bills, according to the National Association for Home Builders.
Reduced allergens.  The absence of outside air, dust, and pollen, moved in and around a home can reduce allergies.
Simple installation.  Radiant heat is easiest to install in new construction, but it's also simple to add to old construction or remodels. Radiant heat mats easily install under new tile, while radiant panels fit nicely on ceilings or walls. You don't have to worry about where to put ducts or registers—radiant heat doesn't need them.