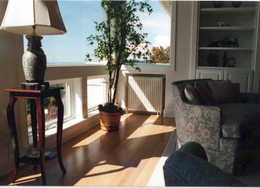 Many homeowners these days are looking for ways to increase their home's efficiency. Whether your goal is to reduce your monthly utility bill or for environmental reasons, there are many ways to save energy and improve the efficiency of your home or business. If you are looking at alternative ways to heat and cool your home, consider a geothermal heat pump. Geothermal systems are an excellent way to heat and cool your home and they are far more efficient than traditional systems. Here are 5 reasons why you should choose a geothermal heat pump.
Increasingly, homeowners, especially in the Seattle area, are choosing greener ways to heat and cool their homes and a Seattle geothermal heat pump system is an excellent choice. Because geothermal heat pumps rely on the stable, constant heat from the earth to provide heating, air conditioning and hot water for your home, your home is guaranteed to be comfortable year round. Here are 5 reasons why homeowners like you should consider geothermal energy.
Geothermal energy is green. Geothermal energy is clean energy. To produce it, unlike fossil fuels such as coal, gas or oil, it requires no combustion and produces very little greenhouse gases.
Geothermal heat is reliable. Because geothermal energy comes from the Earth's internal core, you'll have a constant supply of energy regardless of the weather. A geothermal heat pump in your Seattle home means you'll never be without heat and your home will be comfortable throughout the year.
Geothermal energy is local. The ground beneath you is the source of the energy in geothermal systems. There is no extracting and transporting of energy, no reliance on foreign oil, so geothermal energy is truly local.
Geothermal energy is widely available. Geothermal energy is sustainable energy. Geothermal energy, because it comes from the Earth's core, is a renewable and widely available source of energy -one that has the potential to provide energy to billions of people worldwide.
Geothermal energy will save you money. Although the initial price of installing a geothermal heat pump system can be costly, in the long run using geothermal energy will save you money on your home's heating and cooling costs. A geothermal heat pump can also add to the value of your home. Especially in environmentally-conscious areas like Seattle, homebuyers are looking for green energy systems.
Local homeowners have the added benefit of having a team of geothermal experts to call on! Our technicians at NW Mechanical have in-depth technical knowledge about geothermal systems and years of expertise in the installation and maintenance of geothermal heat pump systems. Unlike traditional HVAC systems, geothermal pumps require specialized piping. Our team has specialized equipment for proper installation so that your system works at maximum efficiency. We provide ongoing support, repair, and maintenance of your geothermal system. With our support, your home's heating and cooling needs will be met efficiently and reliably.
Still have questions? Call us today and ask our specialists here at NW Mechanical about geothermal heat for your home.