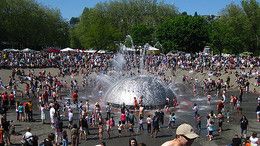 There are many advantages to using geothermal energy to generate electricity for your home.  If you are considering installing a geothermal system in Seattle, read here.
Significant Cost Saving: Geothermal energy generally involves low running costs since it saves 80% costs over fossil fuels. Over the long run, the cost savings of using geothermal electric systems are significant and make up for the initial investment of installation.  
No Pollution: This is one of the main advantages of using geothermal energy since it does not create any pollution and helps in creating a clean environment. Because it is a renewable source of energy, geothermal energy has helped in reducing global warming and pollution. 
Reduce Reliance on Fossil Fuels: Dependence on fossil fuels decreases with the increase in the use of geothermal energy. Geothermal "fuel'" - like the sun and the wind - is available to everyone, and the economic benefits of using geothermal energy remain in the region.
Quiet Operation:  Geothermal units are very smooth and quiet in operation.  They have no outside condensing units like air conditioners, so there's no concern about noise outside the home. A two-speed GHP system is so quiet inside a house that users usually do not know it is operating.
Design flexibility: Geothermal heat pump systems allow for design flexibility and can be installed in both new and retrofit situations. Because the hardware requires less space than that needed by a conventional HVAC system, the equipment rooms can be greatly scaled down, freeing space for productive uses. Geothermal systems also provide excellent "zone" space conditioning, allowing different parts of your home to be heated or cooled to different temperatures.
Durable: Geothermal systems have relatively few moving parts and those parts are sheltered inside a building, so the systems are durable and highly reliable. The underground piping often carries warranties of 25 to 50 years, and the heat pumps often last 20 years or more.  In addition, the components in the living space are easily accessible, which increases the convenience factor and helps ensure that the upkeep is done on a timely basis.
If you are considering installing a Seattle geothermal heat pump for your home, contact us today for an estimate.  Our highly trained technicians can install, maintain and service geothermal energy systems for homes and businesses throughout the Seattle area.