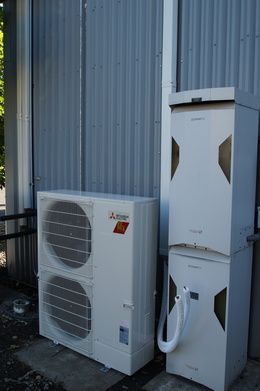 Our NW Mechanical office, located just north of Seattle, uses the same heating and cooling equipment and technology that we offer our customers.  In fact, our office has been a "living laboratory" for many years.  We are proud to display our state of the art equipment and quality workmanship in our showroom.  We are always thrilled when customers come in and see for themselves the service we provide.  Recently, we replaced the ductless heat system in our office.  
Our office's HVAC system was in need of an upgrade.  Lucky for us, we knew just the people to call!  Our talented NW Mechanical technicians replaced our ductless heat pump here at the office, installing the new, sleek Mitsubishi designer series heat pump.  We had three wall-mounted indoor heads installed.  We chose the EF model in glossy black finish (also available in classic white and stainless steel) to complement the aesthetic of our office.  The EF model is smaller, has a slimmer profile and offers the same excellent performance and energy efficiency.  It also can be programmed up to 7 days, operates quietly and has advanced air filtration.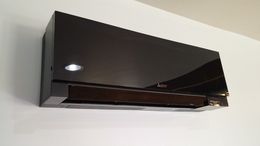 Part of our office's HVAC upgrade included installing a heat pump that has a laser sensor to follow people's heat signatures.  This means that if you want the air blowing directly on you, it can follow you around, OR if you don't want the air flow directly on you, it'll avoid you. It's pretty awesome technology and we were excited to install a unit like this in our office.  If you want to learn more or see how it works, stop by our showroom and one of our staff will be happy to show you!
Our motto "Your Comfort is Our Concern" is the guiding principle for all we do.  We are constantly vetting new equipment to make sure it meets our standards and optimal performance for our customers.  We value our customers and aim to provide only the best, most energy efficient equipment – whether it be home heating and cooling systems, solar panel systems, radiant heat, geothermal systems, or plumbing.  Our highly trained technicians provide quality workmanship from the installation to maintenance and repair.  If you are looking to upgrade your home's HVAC system, contact us today!