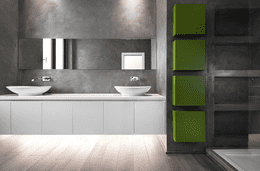 Photo by Carola Vannini.
Are you thinking of selling your home?  The housing market is hot in Seattle, so before listing your house, you may want to consider any home improvements that will increase your home's market value and help you win out over other sellers.  
An excellent way to boost your home's "curb appeal" is to add radiant heat flooring.  Radiant heat is considered a luxury, but it's actually an easy and affordable way to attract Seattle home buyers.  Who wouldn't want to move into a home where the master bathroom had radiant heat flooring?  
Potential homebuyers and homeowners love the comfort and energy efficiency that radiant floor heating provides. Investing in eco-friendly improvements in your home reduces emissions, saves you money – and can increase your home's value when it comes time to sell.