Mitsubishi Ductless Heat Pumps in Seattle
Efficient HVAC Solutions in the Shoreline area
What is a ductless heating system? Let's say you'd like to have air conditioning, but your home or new room lacks the necessary ductwork. Or maybe you have a room that's a little too hot or too cold and you would like to make it more comfortable. Ductless systems offer an elegant solution.
Going ductless doesn't involve going through a major renovation. In fact, there's very little mess at all. Mounted high up on the wall, where it's least obtrusive and most effective at quietly and gently directing treated air to every corner of the room, a ductless heat pump or air conditioner integrates neatly into your space.
For more information, call Northwest Mechanical, Inc.at (206) 900-9231! We are Seattle's leading provider of ductless systems.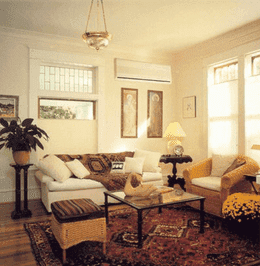 Advantage of Ductless Systems
"Splits or mini-splits" are other names for a ductless heat pump. If you are looking to cool one room as opposed to a whole house, a ductless split type system is a good solution. It is also perfect for customers looking to create temperature zones throughout their homes.
Here are some other benefits you'll enjoy with a ductless heat pump in Seattle:
Sleek, compact design
Energy efficient
Quiet operation
Longer equipment life
A ductless split system also has several advantages over a traditional window unit. For one, it has a thermostat that can keep the room at a constant, comfortable temperature instead of blasting on and off. In addition, you don't have to move a ductless heat pump system in and out of the window as the seasons change, and you don't have the open-window security concerns of a moveable unit.
Why Choose a Mitsubishi Ductless Heat Pump?
Mitsubishi ductless split systems are dramatically more efficient than traditional HVAC systems. These systems automatically adjust to changing conditions to deliver ideal comfort while only using the energy it needs. No more. No less.
As a result, Mitsubishi systems are up to 40% more efficient than standard window units for cooling and our heating performance is far superior to traditional heat pumps. All this technological innovation means you reduce your energy consumption and can save money on your energy costs while enjoying the comfort of your home.
Call Northwest Mechanical, Inc. Today
Why pay to cool or heat your home all year long when you only live in a few rooms at a time? With a Mitsubishi ductless heat pump in your Seattle home, you can actively condition the rooms you live in; the other rooms simply turn off or setback. Zoning your home allows you to save energy while maximizing your personal comfort.
Contact us at (206) 900-9231 to discuss your ductless heat pump options and schedule an installation.
Our values and benefits
See how we are different
Request an Estimate Today

Emergency Same-Day Service & Available 24/7

Tailored Solutions for Home Efficiency & Comfort

We're Not Happy Until You Are

The highest trained & skilled technicians in Seattle
efficient and worry-free equipment
with our service partner plan
from priority service to annual maintenance plans and so much more. Click below or call us to learn more.
(206) 900-9231