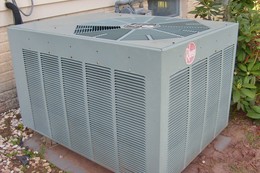 When you think of the Seattle area, you probably imagine mild temperatures and overcast skies. But when the summer heat reaches the high 80's and 90's, Pacific Northwesterners who are accustomed to mild weather, will be desperate to escape the heat.
Keeping your home cool for the summer months is easy with help from Northwest Mechanical. Our HVAC experts have thirty years of experience designing sustainable systems that keep your home comfortable in the most energy-efficient manner possible.
Design and Installation
Complete home air conditioning systems can be engineered to adapt to the unique micro-environments of your home and your property. The control panels for these systems are increasingly smart, allowing you to fine-tune your system and learning, over time, how to keep your family comfortable while still maximizing power savings.
Air Conditioning Repair - 24 Hour Hotline
Whether you need repair of your ductless single-head system, or a service call for a modern, full-home HVAC system, the experienced technicians of NW Mechanical are available to help 24 hours a day.
Our repair capabilities include:
Fix leaking AC / AC that is not cooling sufficiently
Repair central air conditioning
Troubleshoot and repair systems installed by someone else.
Home Maintenance Plans
Northwest Mechanical offers maintenance on all types of residential and commercial heating, plumbing, solar and geothermal systems. We are recognized as an expert service company for boiler and radiant systems and can keep your system running smoothly and efficiently for your comfort.
Additionally, we offer a SERVICE PARTNER PLAN that takes the worry out of Annual Maintenance and includes distinct Benefits.
You will receive a 15% Discount off the bottom line for our Heating, Plumbing and Solar Service for as long as our Service Partner relationship remains in effect.
Plan members are our Priority and jump to the head of the line when they call! This applies to routine and emergency calls.
If you are in need of an Emergency Service, no matter what time of day or night you call, you will receive a 15% Discount off the emergency fee and you will receive the same quality service as always but pay only from the Service Partner pricing menu!
We will call you annually to set up your tune-up, so you don't have to worry about it.
Your Service Partner agreement can either be transferred to your new home, or to the buyer of the home you are selling. Your choice!
We've been helping Seattle homeowners with air conditioning installation, repair and service for over thirty years. Why not give us a call today and find out what NW Mechanical can do for your home? Call 206-267-4328
Fall is approaching and while it's still warm outside, this is the perfect time to service your HVAC system. Keeping up with the maintenance on your HVAC system can prevent issues and keep your system running smoothly for years.  
Here are a few maintenance tips:
Start with changing out the air filters. This should be done during each month your HVAC is in use. It's not always visible, but dust gets trapped in the air filters and can cause issues down the road.

Test your thermostat to make sure your HVAC is working properly. Turn the heat on during a cooler morning to make sure the temperature rises to the set temperature. If it doesn't, you may have an issue.

To ensure air circulates properly, make sure nothing is blocking your fresh-air-supply and return-air vents. Furniture, bedding, toys and the like can obstruct air intake and make the HVAC unit work harder.

Take the time to vacuum any debris from your furnace blower compartment.

Listen for unusual noises or excess heat or water coming from your HVAC. This can raise a red flag that something could be wrong. Don't wait around until it breaks as this could cost more.
If you need some assistance with maintenance, NW Mechanical can send out one of our certified technicians to service your HVAC unit. Contact us to schedule an appointment.