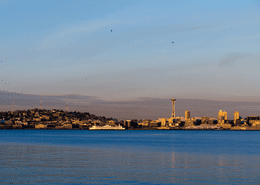 The heat wave is hitting Seattle this week! Temperatures are rising well into the high 90s and the high 80s into the next week. Seafair is also kicking off this week, so don't forget to keep hydrated as you enjoy the many exciting events happening around town.  Seattle homeowners that don't have an HVAC system or even an air conditioning unit will need to take extra measures to keep cool.  Here is a list of do's and don'ts to keep cool.
The do's and don'ts for keep cool this week:
Do's
Keep a bottle of water in the freezer before heading out for the day. It's important to keep hydrated during the hottest hours of the day. Don't wait until you feel thirsty!

Place a bowl of frozen water in front of a fan and aim it at your bed or small living space.

Put your sheets in the freezer an hour before going to bed. This will cool you down and make it more relaxing before going to bed.

Keep your house cooler by unplugging and using less electrical devices.

Crack your windows to create a cross ventilation throughout your home.

Having cracked your windows, pull your curtains closed or keep the shades down. This prevents the heat and sun from directly coming through your windows.
Don'ts
Stand in front of your fridge to cool down!  Keeping your fridge or freezer door open will actually create more heat in the home. The fridge will have to work harder to cool down, creating more heat from the back of the unit.

Run your dishwasher.  It seems stone-age but dishwashers create a lot of heat during the complete cycle. Instead, wash your dishes by hand.

Don't forget about your pets! Remember to keep them hydrated and cool, and keep long walks to a minimum.
If you are interested in installing an air conditioning system for your home, contact us.   If you have an a/c unit or HVAC system, remember to check the filters, check your air-flow through your vents, listen for abnormal sounds, and clean coils, drain pans and drain lines. If any issues arise, give NW Mechanical a call at (206) 900-9231, we are happy to help solve any HVAC problem or maintain your system so that it operates efficiently.