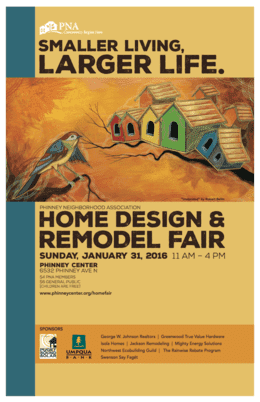 Come see NW Mechanical at the PNA Home Design & Remodel Fair!  Sunday, January 31st from 11 am - 4 pm NW Mechanical will be one of the exhibitors at this community event.  Featuring over 70 local exhibitors including general and specialty contractors, architects, suppliers, designers, landscape professionals, nonprofit groups and permitting agencies – not to mention home heating and cooling systems experts like our NW Mechanical team.  Seattle locals can come be inspired and gather information for their next home project.  
This year's theme – Smaller Living, Larger Life – will focus on ideas for living in a smaller footprint, simplifying, expanding outdoor living space or converting part of a home for a multi-generational household. 
In addition to a wide selection of home improvement exhibitors, there will be a wonderful variety of presentations by specialists in the field, including interior designers and architects.  
Whether you are looking to enhance your home's energy efficiency with radiant floors, a geothermal system, a solar panel system, or a Mitsubishi ductless heat pump, NW Mechanical can talk to you about your options, answer all your questions and arrange a consultation with one of our expert technicians.  Come and meet us at the home fair!
The proceeds from the Home Fair benefit PNA's Well Home Program, which provides extensive resources for homeowners and do-it-yourselfers, including a tool library, education classes and hands-on workshops, a resource library, referrals, and a monthly Fixers Collective.  
For more information about this event, visit http://phinneycenter.org/homefair/.   Be sure to stop by and say hello!