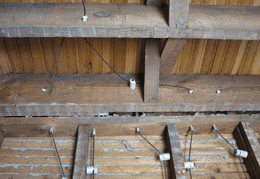 Photo by Laura Scudder.
You can still find knob and tube electrical wiring in many old homes in Seattle.  Is yours one of them?
Not only is knob and tube wiring a safety hazard, but many insurance companies will refuse to ensure a home that has this type of out-dated electrical system.  
So, why is knob and tube dangerous?  
Knob and tube should be replaced because the original wiring was designed to carry less electrical current than today's standard wiring. In the early 1900s, knob and tube was adequate for lights and electric circuits. Today's air conditioners, dishwashers, and high current devices pull too large a load for knob and tube wiring to operate safely. As the electrical load increases the old wires get hot and can become a fire hazard. 
If you have knob and tube in your house, give us a call.  Our Seattle electrician will help you replace your old knob and tube wiring with a safer alternative for your home.